4.5" full-range low-profile ceiling speaker
4.5" full-range speaker unit
Engineered for optimum BGM reproduction
Low-profile design facilitates installation in limited ceiling spaces
Direct support for low-impedance or high-impedance connections
Built-in carrying band increases safety during installation
Anti-drop tab mechanism provide secure temporary positioning during installation
Double-threaded speaker clamp screws for speedy tightening
Paintable grilles with magnetic catches
Black and white versions available
3.1kg (6.8lbs), Ø324 x D143 mm (Ø12-13/16" x D5-11/16")
Speaker type
Full range, Bass reflex
Frequency range (-10dB)
60 Hz – 20 kHz (Half-space:2π)
Nominal coverage
130° conical (Half-space :2π)
Components
LF-HF
4.5" Full range unit
Power rating
NOISE
40 W
PGM
80 W
PEAK
160 W
Nominal impedance
8 Ω
Transformer taps
100V
30 W, 15W, 7.5 W
70V
30 W, 15 W, 7.5 W, 3.8 W
SPL
Sensitivity (1W; 1m on axis)
89 dB SPL (Half-space:2π)
Peak (Calculated)
111 dB SPL (Calculated, 1m)
I/O connectors
Euroblock (4 pin) × 1 (input: +/-, loop-thru: +/-)
Protection circuit
Load protection
Full-range power limiting to protect network and transducers
Finish
VXC5F: Black (approx. Munsell N3), VXC5FW: White (approx. Munsell N9.3)
Dimensions
Diameter
324 mm (12-13/16")
D
143 mm (5-11/16")
Net weight
3.1 kg (6.8 lbs)
Cutout size
Ø285 mm (Ø11-1/4")
Required ceiling board thickness
5 mm – 37 mm
Accessories
O-ring, Tile Rail, Cutout Template, Euro Block (4pin), Terminal Cover
Packaging
Packaged in pairs
Certificate
UL1480, NFPA70, CE, EAC, RoHS
EN54-24 compliance
-
Others
Conduit tube: Ø15.4 mm - Ø21.3 mm
Options
-
Delivers the Highest Quality Background Music
Delivers the Highest Quality Background Music
Yamaha's deep understanding of music comes together with cutting edge technology in newly designed speaker units and resin enclosures that allow an extraordinary degree of acoustic design freedom, resulting in refined, natural music reproduction at any volume level without the midrange distortion that often plagues speakers of this type. The VXC-F's speaker unit size and back box volume have also been painstakingly matched to achieve well-balanced reproduction from low to high frequencies even at low output levels.
Recommended Applications
Restarurant, cafe, bar, retail stores, spa, museum, hotel lobby, ball room, etc.
Smart Design for Safer, Faster Installation
Smart Design for Safer, Faster Installation
The VXC-F ceiling speakers feature low profile back boxes, reduced weight, and mechanical features that contribute to significantly safer, faster installation. And since these models support both low-impedance and high-impedance connection, the need for extra stock is minimized and systems can be designed to ideally meet the requirements of any application.
Hi-Z or Lo-Z
Hi-Z or Lo-Z
Both high-impedance and low-impedance connections are supported, and speaker wattage can be easily switched even after installation.
Low Profile
Low Profile
Reduced physical depth allows installation in ceilings where space is limited.
Lightweight
Lightweight
Reduced weight increases installation flexibility while lessening the burden on installation personnel.
Portable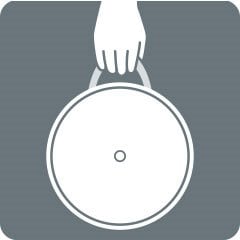 Portable
A built-in "carrying band" not only makes the speaker easy to carry around, but also increases safety when working on a stepladder.
Secure
Secure
An anti-drop tab mechanism securely holds the speaker in place so that the installation can proceed safely and efficiently. There's also a release lever that allows the speaker to be smoothly removed from the ceiling as required.
* Not available with the VXC2F
Fast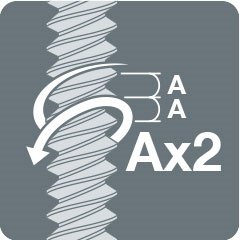 Fast
Double threaded screws used for the speaker clamp mechanism allow the clamps to be tightened twice as fast as conventional screws.
Streamlined
Streamlined
The supplied speaker grilles are firmly and elegantly held in place by powerful magnets. An anti-drop wire is also included.
Paintable
Paintable
The supplied grilles can be painted any color to match interior decor.
EN54-24 Certified Versions with Uncompromised Performance
Yamaha also offers "VA versions" that meet European EN54-24 voice alarm system requirements. These models have been carefully tuned to retain the natural musical instrument and voice reproduction quality that is a feature in all VXC-F speakers, delivering refined BGM during normal operation while providing exceptional clarity for emergency broadcasts. The ability to support both music playback and emergency broadcasts with a single speaker type contributes to reduced system complexity and cost.
*Available models: VXC5F-VA/VXC5F-VAW/VXC3F-VA/VXC3F-VAW
*VA versions are not available in some regions.