Yamaha DM7 Compact Digital Mixing Console
GO ABOVE AND BEYOND
The DM7 series is a versatile digital mixer that combines unparalleled sound quality with seamless operation and expandability that affords users a comfortable yet creative engineering workflow, while providing audiences with a memorable sonic experience. With its comprehensive suite of mixing tools and flexible expansion options, the DM7 series has you covered in any environment that requires top quality sound, and gives you the capability to meet the ever-changing demands of an expansive range of mixing applications.
Off to a solid start
It all starts with your sound, and if the input section of your mixer is compromised or lacking in any way, your mix isn't likely to meet your, or your audience's expectations. To meet our own very strict standard of sound quality, the inputs of Yamaha consoles and I/Os are meticulously designed and constructed. We take every aspect of the initial input stage into consideration in order to achieve our signature "transparent sound", from the individual components, power supply, and grounding, to the circuit layout, and mechanical structure of the inputs.
In addition, the DM7 series supports sample rates up to 96kHz for superior, high-resolution sound quality.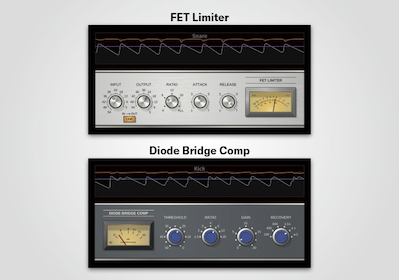 Powerful Channel Strip
The DM7 series Channel Strip is equipped with numerous advanced functions for convenient, intuitive sound creation. In addition to the Channel EQ inherited from the RIVAGE PM, the newly added FET Limiter and Diode Bridge Compressor offer expanded dynamics control, while the new "History" function combines with the existing comps and gates for easier and more precise dynamics adjustment than ever. The "Mix Balance" parameter is yet another new function that allows you to easily mix the original sound with a compressed sound and apply parallel compression. In addition, the order of EQ and Dynamics 2 can now be changed to suit your creative preferences, further expanding the range of sound creation.
The DM7 series also features the Dan Dugan automatic mixer with up to 64 channels in the channel strip as a standard feature. In cooperation with Dan Dugan Sound Design, a US company renowned for its proprietary algorithm-based automatic microphone mixer, the automatic mixer function can be conveniently accessed from the channel strip without the need for EQ RACK resources.
The input meters now also include a histogram display to help adjust HA levels.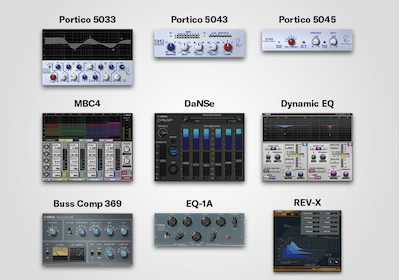 Extensive plug-ins and new effects
The DM7 series is equipped with an extensive suite of plug-ins to accommodate a wide range of applications, including VCM models of the renowned Portico 5033 equalizer and Portico 5043 compressor/limiter— both developed through close cooperation with Rupert Neve Designs. Also included are Yamaha's original plug-ins, such as the DaNSe dynamic noise suppressor, and the Dynamic EQ, which are well known among audio engineers.
The FX RACK features high-quality multi-effects processors with forty-three types of high-grade effects including the newly equipped REV HD and REV R3 to inspire a broader depth of creative sound reproduction.
PRODUCT INFORMATION
The DM7 Compact is a Dante-equipped versatile digital mixing console with unparalleled sound quality, ease of operation, and high reliability that make it perfect for a wide range of applications. The DM7 Compact is configured with 12 + 4 faders and a 1 x 12" + 1 x 7" multi-touch screen, and a rack-mountable with an optional RK1 rack mount kit.
Input mixing channels: 72 mono

Buses: 48 Mix + 12 Matrix + 2 Stereo

Display: 12.1" multi-touch screen x 1, 7" multitouch screen x 1

Faders: 16 (12 + 4)

Analog I/O: 16 inputs / 16 outputs

Dante: 144 in / 144 out

AES/EBU: 1 out

Slot: PY Slot x 1

USB Audio Interface: 18 in / 18 out

Power supply: Redundant power supply built-in

Power consumption: 240 W

Dimensions (W x H x D): 468 mm x 324 mm x 564 mm (18.5" x 12.8" x 22.2")

Net Weight: 16.5 kg (36.4 lb)
DM7 Compact
Mixing Capacity
Input Channels
72 mono
Mix Buses
48
Matrices
12 (Input to Matrix supported)
Stereo Buses
2
Mono Buses
1 (Stereo B can be changed)
Cue Buses
2
I/O Connectors
Analog Input
16
Analog Output
16
Dante
Primary / Secondary
AES/EBU Input
0
AES/EBU Output
1 (2ch)
Expansion Slot (PY Slot)
1
Word Clock I/O
In / Out
MIDI
No (MIDI protocol supported on USB to HOST)
GPI
5 in / 5 out
USB TO DEVICE
2 (File Save / Load, 2 Track Rec / Play)
USB TO HOST
1 (USB Type-C, USB2.0)
Ethernet
Yes
Meter Bridge
On screen
Lamp
0 (Bulit-in LED Strip Light)
Video Out
No
TC In
Yes
Phones
1
AC
2 (V-Lock Type)
External Redundant Power Supply
Built-in dual power supply
Scene Memory
Number of Scenes
500
Recall Safe
Yes
Focus Recall
Yes
Fade Time
Yes
Preview
No
Selective Load / Save
Yes
Global Paste
Yes
Event List
No
Overlay
No
Isolate
No
Tactile Control Keys
No
Input Channel Functions
Input A/B
Yes
Gain Compensation
Yes
Digital Gain
Yes (-96 dB to +24 dB)
Attenuator
Yes (-96 dB to +24 dB)
HPF
20 Hz to 2,000 Hz, -6/-12/-18/-24 dB/oct Selectable
PEQ
4 Band Full PEQ (4 algorithms, RTA overlay supported)
LPF
20 Hz to 20 kHz, -6/-12 dB/oct
Dynamics 1
Legacy Comp / Comp260 / Expander / Gate / Ducking / De-Esser
Dynamics 2
Legacy Comp / Comp260 / Expander / Gate / Ducking / De-Esser / FET Limiter / Diode Bridge Comp
Input Delay
Yes (0 ms to 1,000 ms)
Pan
Center Nominal / LR Nominal
DCA Group
24 (Output DCA supported)
DCA Rollout
Yes
MUTE Group
12
Number of Inserts
4 slots on 1 insert point
Dan Dugan Automixer
Yes (Up to 64ch)
Direct Out
Yes
Output Channel Functions
PEQ
8 Band Full PEQ
8 Band Full PEQ
GEQ
Virtual Rack (EQ Rack)
Dynamics 1
Legacy Comp / Comp260 / Expander / Gate / Ducking / De-Esser / FET Limiter / Diode Bridge Comp
Output Channel Delay
Yes (0 ms to 1,000 ms)
MUTE Group
12
Number of Inserts
4 slots on 1 insert point
Premium Rack
Number of DSP Resources
64
Mountable Plug-ins
RND Portico5033 / RND Portico5043 / Portico 5045 / U76 / Opt-2A / Comp276 / Buss Comp 369 / MBC4 / DaNSe / EQ-1A / Equalizer601 / Dynamic EQ / Dynamic EQ4 / REV-X / OpenDeck / Analog Delay / Max100 / Vintage Phaser / Dual Phaser / HQ.Pitch
Effect Rack
Number of DSP Resources
16
Number of Effect Types
43
EQ Rack
Number of DSP Resources
32
Mountable Devices
31BandGEQ / Flex15GEQ / 8Band PEQ (RTA overlay supported)
Dante
Number of I/O Channels
144 in / 144 out
Number of I/O devices that can be discovered from the console
127 *1
Number of I/O devices that can be mounted
24
Number of I/O devices with HA remote control
24
Dante Patch from Console
Yes
USB to Host
Number of Audio I/O Channels
18 in / 18 out
USB MIDI
Yes
Monitor
Solo Mode
Yes
Oscillator
Sine Wave 1ch / Sine Wave 2ch / Pink Noise / Burst Noise
Other Functions
Port to Port
Yes
Timecode Reader/Display
Yes
Timecode Chase
No
GPI
Yes (5 in / 5 out)
MIDI
Yes (USB MIDI)
OSC Server
Yes
DAW Remote
Yes
Nuendo Live: Control Integration
Yes
Virtual Soundcheck
Yes
Wireless Mic Monitoring
Yes
RTA
Yes
Delay Compensation
Yes
Output Port Delay
Yes(Up to 20 ports)*Future Update
Sub In
Yes
User Levels
Yes
Channel Link
Yes
Temporary Channel Link
Yes *Future Update
Multi Language Channel Names
Yes
Mix/Matrix to Input
Yes
Split Mode
Yes
Assist
Yes (HA / Naming / Fader)
User Interface
Displays
12.1" multi-touch x 1, 7" multi-touch x 1
Faders
12 + 4
Channel / Screen Encoders
Yes
Channel Name / Color Displays
No (on-screen)
Custom Fader Banks
Yes
Shift Keys
Yes
User Defined Keys
Surface: 6 (6 keys x 4 banks), Utility Screen (On-screen): 12 (12 keys x 4 banks)
User Defined Knobs
Yes (by 4 encoders below the Utility screen)
Touch and Turn Knobs
Yes
Monitor Level Knobs
No
Arm Rest
Yes
Rack Mountable
Yes
Software
Editor
DM7 Editor (Win/Mac)
StageMix
DM7 StageMix
MonitorMix
Yes
Console File Converter
Yes
ProVisionaire Control/Touch
Yes
Software Package
Broadcast Package, Theatre Package
Dimensions
W
468 mm (18.5")
H
324 mm (12.8") *including the rubber feet
D
564 mm (22.2")
Net weight
16.5 kg (36.4 lb)
Included Accessories
Owner's Manual, AC power cords, Dust cover, Cable hook (for USB TO HOST), Nuendo Live, VST Rack Elements
Accessories
RK-1