Product Code:KH310ALG
Neumann KH 310 A L G Active Near-Field studio Monitor
High-resolution tri-amplified near-field monitor, optimized for midrange and a dry bass sound. Analog input 3-way, Left version, 8.25" + 3" + 1" drivers, EU/UK/US mains, Gray.
Brand:
*only5 item(s) remaining
*Rate inclusive of VAT. Delivery time: 2 - 4 days
---
The KH 310 is a three-way tri-amplified monitor with thermally protected Class AB amplifiers (210 W and two times 90 W). Its Mathematically Modeled Dispersion™ (MMD™) waveguide delivers sound waves into the room with superior accuracy. The drivers are modeled using Neumann's in-house developed software, which reduces non-linear distortion in every situation. Sound distributed in a horizontally precise manner ensures flexibility in the listening position; the narrower vertical dispersion reduces the negative effects of nearby reflections, for example from a desk or mixing console. The precisely controlled dispersion characteristics optimize reproduction in different room configurations and the response is extremely adaptable through various acoustical control settings.
EXPANDED MIDRANGE PRECISION – DRY BASS SOUND
With its specially designed midrange driver, the compact KH 310 is particularly suited for precise work with speech, vocals, guitars and other instruments that have a midrange emphasis. Its closed design enables a very fast transient response. The associated low harmonic distortion guarantees a neutral reference sound to meet the highest standards.
BEST WORKING ENVIRONMENT: CLOSE TO PROFESSIONAL EARS
The KH 310 is typically used in near-field applications such as project, music, broadcast and post-production studios for recording, mixing and mastering. It it also available as a digital input "D" version.
A SOLID BASS FOUNDATION, HIGH IMPULSE FIDELITY
With its powerful switched-mode power supply and tri-channel amplifiers, the KH 310 realizes sound pressure of up to 116.3 dB and thereby retains a high-resolution and neutral representation across the entire frequency response. This provides sufficient energy for even the most demanding impulse dynamics with no distortion or losses. The bass goes down to an impressive 34 Hz.
The closed cabinet design means a lower group delay. This results in almost the entire frequency range being reproduced at the same time; the transient response is precisely controlled at all times.
ULTRALIGHT FABRIC DOME OPTIMIZES MIDRANGE REPRODUCTION
The optimized design of the driver enables a pristine sound right down to the lowest bass regions. For most applications, the rich foundation offers enough bass extension to work cleanly on the mix without the necessity of a supplementary subwoofer. For demanding treble sounds, our own specially developed, powerful alloy fabric dome ensures distortion-free clarity in the high-frequency range.
The fabric midrange dome captures the middle frequency range with the utmost precision. Its ultralight material and the powerful neodymium magnet enable a significantly better transient response with considerably less distortion than comparable midrange domes.
THE PERFECT COMPLEMENT: THE KH 750 DSP SUBWOOFER
In addition to its outstanding acoustic properties this subwoofer offers functions for non DSP-based Neumann monitors connected (analog) to its outputs regarding the interplay with the following tools:
Automatic Monitor Alignment

– Automatic room correction of stereo systems using the Neumann MA 1 measurement microphone (software for Mac/PC)

Neumann.Control

– Free iPad®-App for setup, operation, and room correction of stereo systems via guided and/or manual alignment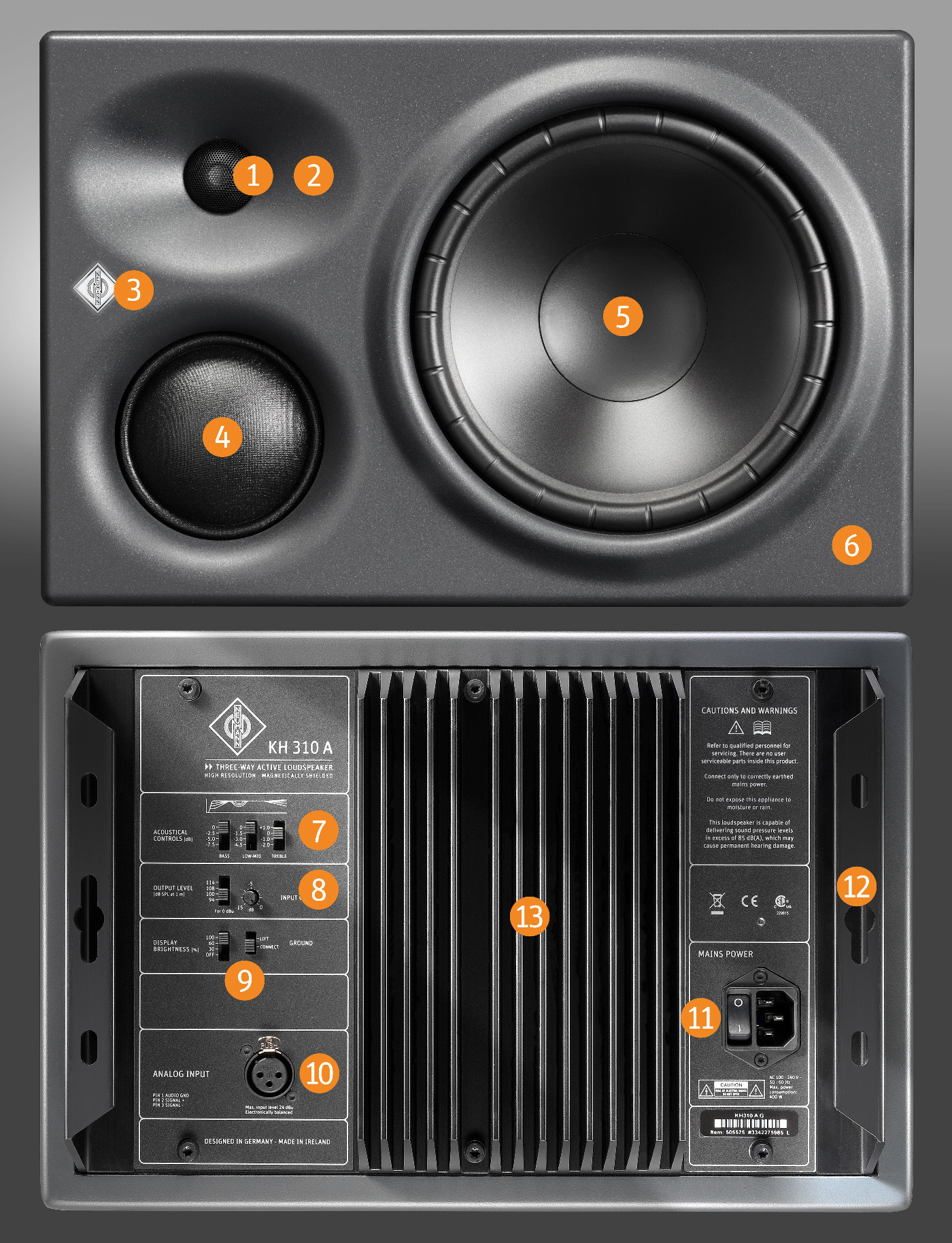 (1)
In-house simulated tweeter with alloy fabric dome and robust metal grille
Latest modeling techniques used to minimize non-linear (harmonic and intermodulation) distortion

Low-distortion high frequency reproduction

Grille protects against mechanical damage
(2)
Elliptical Mathematically Modelled Dispersion™ (MMD™) waveguide
Smoother off -axis response

More forgiving of diverse acoustical environments
Wide horizontal dispersion
Freedom of movement across the mixing console
Narrow vertical dispersion
Reduces reflections off the mixing console
(3)
Two-color + dimmable Neumann logo
Displays operation status and activation of the extensive protection system

Dimmable for low lighting level conditions or behind the screen applications
(4)
In-house simulated, neodymium magnet, fabric dome, midrange driver with optimized low stray magnetic field
Dedicated driver reproduces important midrange frequencies for speech and vocals

Latest modeling techniques used to minimize non-linear distortion

Light-weight dome has better transient response and less breakup modes than cone designs

High power magnet reduces harmonic and intermodulation distortion
(5)
In-house modelled long-throw composite sandwich cone bass driver with Extremely Linear Force Factor™ (ELFF™), magnetic shielding and flow optimized die cast basket
Damping of break up modes brings low distortion at high sound levels

Linear pistonic motor gives a very low harmonic distortion even at high excursions

Reduced air noise and improved rocking modes
(6)
Compact cabinet
Robust package for a long life

No standing wave resonances
One-piece front panel with no discontinuities
Reduced diffraction and smoother frequency response
(7)
4-position bass, low-mid and treble acoustical controls
More control in diverse acoustical environments

Fast acoustical set up in mobile applications

Repeatable acoustical settings after moving loudspeakers
(8)
Wide range input gain and output level controls
Easier interfacing with signal sources
(9)
Display dimmer and ground lift
For low lighting level conditions or behind the screen applications

Reduced noise in electrically noisy environments and over-comes ground loops
(10)
XLR electronically balanced analogue input
Standard interfacing to professional equipment
(11)
Universal switched-mode power supply (100 … 240 V)
One version works in any country and robust to poor quality mains supply
(12)
Fully documented extensive mounting hardware range
More flexibility in mounting cabinets in more diverse locations and backwards compatible to previous products

Easy advanced planning for installations
(13)
Powerful amplifiers with large headroom and overheat limiting
Improved transient response

Assured reliability and safety
Separate fast acting thermo limiters for woofer, midrange and tweeter to protect the voice coils and power amplifiers
Woofer soft clip and excursion limiters

Increases system reliability

Allows extraction of the maximum performance
MORE FEATURES
Production consistency due to individual hand alignment in final testing
Any KH 310 is "pair matched" to any other KH 310
Optional robust metal grille
Can be used to protect the drivers