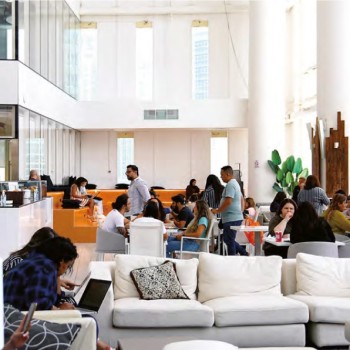 NEW TO AV
Thomsun has helped ease the moving pains for Huspy by taking charge of the office's new working requirements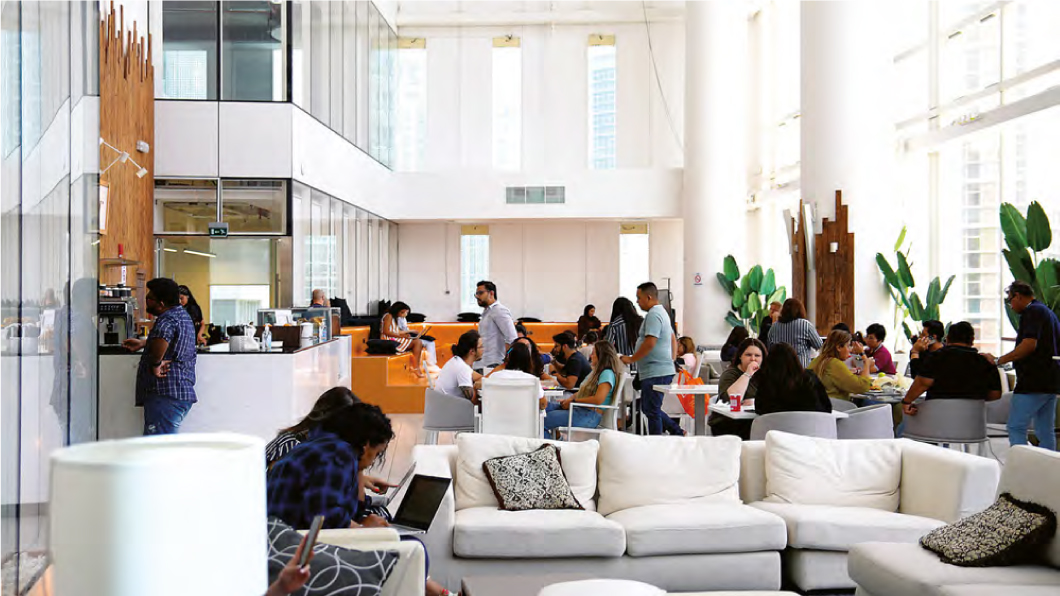 AS A REAL-ESTATE START-UP FOCUSED ON THE MORTGAGE market, Huspy, like many companies in recent years, has faced a new set of challenges to overcome in the traditional office environment. Having decided after much deliberation to move its headquarters to a new and more central location in Dubai, the company was ready to embrace novel uses of audio and video technology to enable its 300-strong workforce within the various multinational arms of its business to better collaborate across distance.
The company has grown surprisingly quickly in a highly congested market by placing a focus on technology to provide a more transparent and easy-to-navi- gate experience for buyers. Within just one year of operations, it had grown to become the UAE's number one mortgage provider with an annual rate of more than US$1b.
"We were founded back in 2020, right before the pandemic," explains Huspy's Natalie Klein. "We had our first hire in just March 2020 but since then we have grown to encompass more than 300 employees. This left us split over four different offices, all of them in Business Bay in Dubai. It got to the point that we outgrew every single office that we came into. So, we decided to opt for a new space where we could house all of the employees in a single place, fostering better collaboration and encoura ing the way they interact and work with each other." The new open-plan space was perfect for modern collaboration and larg- er-scale meetings but less so for small intimate meetings. "What made us fall in love with this specific floor in the Bay Gate building was the fact that we have this central space like a winter garden," furthers Klein. "From the beginning, we understood that it would be important to have a seminar space, a space for our employees to interact, to make better use of the cafeteria and to ensure that we have the proper infrastructure to host big events." Being such a new com- pany, Huspy was unfamiliar with the best approach to take and quickly looked to the market for advice while trialling potential solutions. Having moved into the new Business Bay office, the company initially rented a screen and stage to test out different deployment ideas and whether these systems would suit the team's configuration. "It was really important for us, being completely unknowledgeable about any of these aspects, to be able to count on a team of specialists that help us work out the best solution for our needs." Local security solutions and AV integrator Syslab was brought on board and provided its expertise in the visual domain, deferring to long-term close partner and Yamaha's UAE distributor.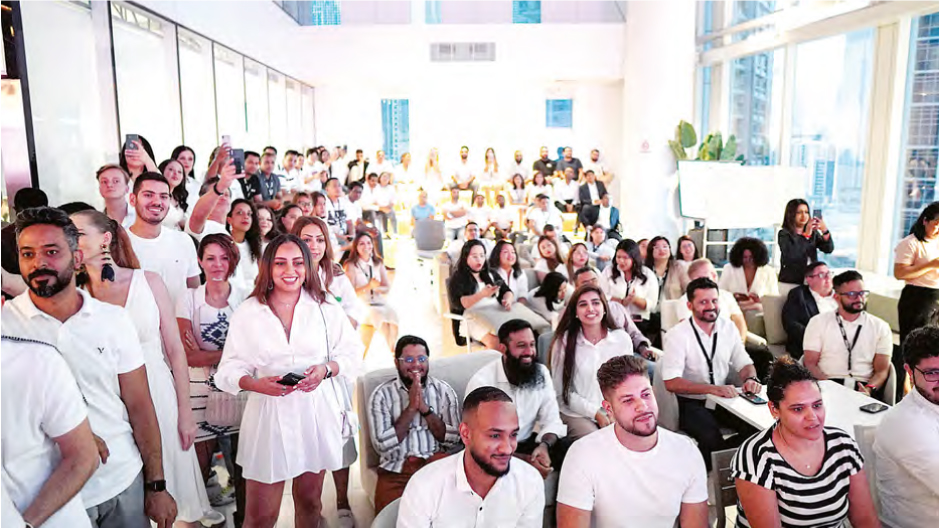 THOMSUN TRADING for a "modern and upscale" audio solution. "Our involvement in this project came through Syslab," recalls Mikhail Sujan, technical sales at Thomsun Trading. "For them, it was important for the solutions chosen to be visually sleek and also something quite high-end. We naturally proposed the Yamaha VXL speak- ers. Since the area where they're installed is a very long space, we integrated four VXL16s running off two amplifiers in combination with a Yamaha MTX3 matrix proces- sor." Divided into two sections, the primary area has been installed with 4.48m x 2.56m 1.8mm pixel pitch bespoke LED screens together with the four aforementioned VXL1W-16 column arrays. Power is delivered from dual Yamaha PX5 2x800W Class-D amplifiers through the 26x8 MTX3 matrix mixer / signal processor.
A Yamaha DCP4V4S-EU wall-mounted control panel provides easy manual control, and a Sennheiser XS Wireless 1-835 all-in-one microphone system is on hand for use by meeting presenters with the option of either handheld or headset mics. At the other end of the space, section two features a second screen in the form of a MAXHUB 75-inch interactive LED display that can be moved as required. For Huspy's management team, despite the AV solution being relatively simplistic in nature, being walked through all stages of the process by experienced professionals was hugely appreciated. "It was really useful to have the support of a specialist telling us things like, what is a good res lution, what is a good size of screen and where should we place it, or what is a good sound system to accompany it," notes Klein. "Choosing something that we wouldn't later be able to scale wasn't an option. The moment we decided to make an investment in something, it needs to be able to work for us for the long run."
View more at, https://www.proavl-central.com