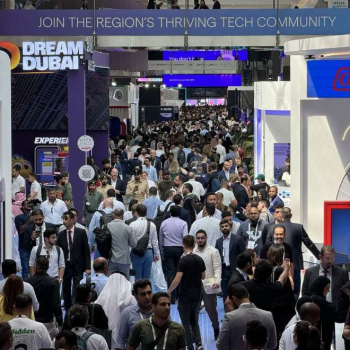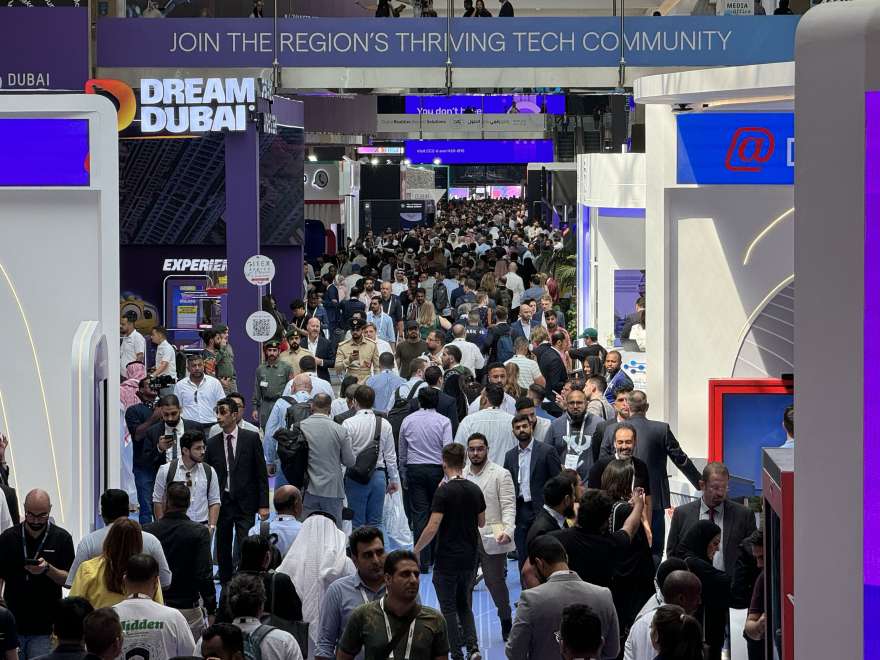 MIDDLE EAST:
GITEX Global opened its doors at the Dubai World Trade Centre (DWTC) this week, expecting to welcome more than 120,000 visitors through its doors and quickly sending Dubai traffic into chaos. It now brands itself as the world's biggest technology and tech startup show, and so it's no surprise that the major tech trend of 2023 – AI – completely stole the show.
It's a platform that grows considerably year-on-year too. Rebranding as GITEX Global in 2022, the event enjoyed a successful inaugural spin-off in Morocco back in May 2023 with GITEX Africa, and (returning to Dubai) has continued to spill out of the DWTC and into Dubai Harbour with Expand North Star. AI wasn't the only topic on exhibitors' minds however, with a full conference agenda and the innovations on the show floor also spanning Web 3.0, cybersecurity, automation, climate technology, urbanism and more.
Running from 16–20 October, the 43rd edition of the exhibition hosted 6,000 exhibitors and 180,000 tech executives from across 180 countries. GITEX Global and Expand North Star covered a combined area of more than 250,000 m2 – a 40% increase over the previous year.
While the show is enormous in all regards, there's traditionally just been a small but stable complement of AV companies dating back to the show's partnership with InfoComm MEA. It was encouraging to see those numbers increase slightly this time around – one of those new additions being NMK Electronics on a large two-tiered booth in Hall 2, promoting QSC, Neat, Televic, Peerless A/V, Bose and Barco Clickshare solutions. "I think the actual exhibition has matured quite a bit and key stakeholders are attending, which allows us engage with them and understand their demand from the get go," said NMK's Dino Drimakis. "For us, it's very important to give them an idea of what we actually do. Ever since the Expo, everyone already understands what the term audiovisual means. Now, our focus is on showcasing the solutions directly on the booth with a fully-fledged tour. When you walk inside, you immediately get a full understanding of what audiovisual can and will do for your solution."
Another newcomer to the exhibitor list this year was Dutco Tenant, distributor for Optimal Audio, Powersoft, Key Digital, AVer and Nureva who were located in Hall 4A. General manager of Dutco Tenant's business technology solutions, Jacob Thomas explained that, "this is the first time we've returned to GITEX since the pandemic and the main reason for that is because we have now a full portfolio of AV and UCC products and we are happy to continue to support our SI partners. As the show continues to evolve into ICT or UCC, we decided now is the right time for us to be here, but audio visual is still a very small part."
On a booth in Hall 2 surround by UCC and AV brands including Biamp, Barco, Poly, Logitech and Yealink, First Video Communications executive director Bruce Withington echoed these sentiments. "As always, GITEX is an exciting show and I think is quite unique in the world. They not only claim to be the biggest, but it's always been a show where you get genuine end-users coming along to actually see what's new, which I think puts it in contrast with many other tradeshows, which have somewhat gone out of fashion. The joy of GITEX is that you can easily meet partners you've been working with for ages. But the real excitement is being able to show the new technology to customers. And you do get some great customers here!"
Thomsun Trading threw its weight behind GITEX for the first time last year, and has now migrated into a central position in Hall 2, with a greatly expanded booth showcasing its full portfolio of AV brands including Yamaha, Røde, Lumens, Univox, Speechi and Vissonic. It was also introducing a new addition to its portfolio, French loudspeaker manufacturer NEXO. "This is a particularly exciting show for us this year as we're presenting the Yamaha DM7 mixer for the very first time," explained Thomsun's Jose Santos. "Since this exhibition brings in everyone to a single location, we decided this was the ideal place to introduce it. Secondly, we're excited to unveil our brand new partnership with NEXO. We're convinced that this is the show to be at and so we've taken a much larger booth than before. I think we might go even larger again next time."
The two-storey Venuetech booth provided ample real estate for the distributor to showcase its full portfolio of brands, including Meyer Sound, Riedel, Sennheiser, Taiden, RGBlink, Barco weConnect and Arthur Holm, among others. Taking pride of place on the booth was Spanish LED manufacturer, Auravision. "I'll be honest in saying that I'm not a big fan of getting into and out of this show – it's challenging to say the least," said Auravision technical sales manager, Ricardo T. "But the benefit is that the entire industry and all the relevant systems integrators are present. This makes it the perfect platform to introduce new products, and so we've been showcasing our 0.7mm and 0.4mm pixel pitch solutions exclusively in the Middle East for the very first time. This year already feels just as busy, if not more so, than last year."
On a vastly expanded booth in Hall 7, Jabra was showcasing its new PanaCast 50 VB-S all-in-one videobar system for the first time. "I'm expecting to have a lot of great conversations with customers and partners this week," noted Jabra's Laurenz Rixner. "It's already sizing up to be Jabra's biggest GITEX yet. For me personally, I've been coming to this show for more than five years and already this one is really top notch. We find GITEX to be one of the key exhibitions to participate at, there's not only tonnes of people here but also some great potential customers."
With the rest of the week to go, exhibitors are only expecting numbers to ramp up further as the show progresses. Stay tuned for a full show report on GITEX Global in the November-December edition of Pro AVL MEA.
Watch our day one video from GITEX here.