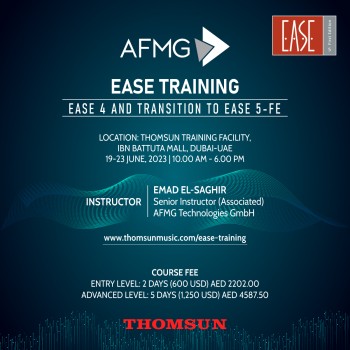 EASE Training - EASE 4 and Transition to EASE 5-FE
This is a comprehensive course that covers both the basics of EASE 4.4 and advanced topics related to the new version, EASE 5-FE. Throughout the five-day course, participants will gain an understanding of the relationship between the two versions and how they differ. The first two days of the course will focus on entry-level topics, while the last three days will cover more advanced material.
Location
Thomsun Training Facility,
Ibn Battuta Mall, Dubai UAE
Date & Time
June 19-23 , 2023,
10.00 am - 6.00 pm
Instructor
Emad El-Saghir
Senior Instructor (Associated)
AFMG Technologies GmbH
https://www.linkedin.com/in/emad-el-saghir/
Course Fee
Entry Level: 2 days (600 USD) AED 2202.00
Advanced Level: 5 days (1,250 USD) AED 4587.50

Inclusions:

The course fee includes:
Training facilities at Thomsun Training Facility, Ibn Battuta Mall,
one EASE 5-FE trial license with one month validity
Morning tea, Lunch + afternoon tea
Attendees are to arrange their own travel, accommodation and other main meals.
REGISTRATION CLOSED!

For additional information please contact,

Email :[email protected]
Phone :+971 4 2693359