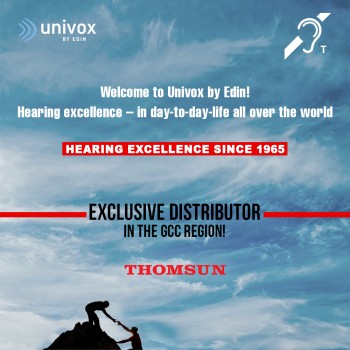 Hearing excellence since 1965
Univox by Edin is one of the worlds leading producers of high-quality assistive listening product such as hearing loops, RF and IR systems. In 1969 we created the very first true constant current loop amplifier. Ever since, our mission is to serve the hearing aid community with the highest degree of service and performance with strong focus on Research and Development for new and improved technical solutions. This long-term dedication to R&D has positioned Univox at the forefront of the hearing loop industry. A combination of high voltage, high current and strong long-lasting casing make our loop amplifiers the right choice in every installation. We also develop new solutions within the FM and IR audio distribution area, to increase the accessibility of the hearing impaired. With specially adapted bodypack receivers, our systems work for both normal hearing people and hearing aid users.
Initially Bo Edin AB cooperated with the largest distributor of medical care products in Sweden, LIC (owned by Swedish County Councils). The assistive listening devices developed and produced by Bo Edin AB were distributed exclusively by LIC in the 60's, 70's, 80's and early 90's. In December 1992 this cooperation was put to an end, and Bo Edin AB started direct sales and distribution to existing markets and customers in Sweden.
Ever since the start in the 60's Univox has been the number one brand in Sweden and still today Bo Edin AB holds a very strong position both in Sweden and the neighboring Nordic countries. Thanks to a strong technology portfolio and cutting-edge products, also the export sales began in the early 70's.
During the last decades the export has grown substantially and today export sales accounts for more than 50% of the total turnover. The export share grows steadily and new markets are being opened up continuously. Export sales is managed through country or region-specific distributors in markets all over the world, including Norway, Denmark, Finland, United Kingdom, the Benelux region, Germany, Austria, Switzerland, Spain, France, Italy, the Baltic countries, Poland, Russia, USA, Australia, New Zealand, South-East Asia and China (HK).
Univox has a strong position within the global hearing enhancement system market and plays an active role in the international A/V market. We are members of Avixa, the international trade association representing the audiovisual industry, and exhibits regularly at international exhibitions like ISE and InfoComm. With an active role in the work group TC-29/MT-20, Bo Edin AB (Univox) has also been deeply involved in the continuous development of the international performance standard for induction loops, IEC 60118-4.
By maintaining a strong focus on R&D, continuously adding new technologies and products, and with a growing network of dedicated and well-trained distributors, the future for Univox looks brighter than ever.
---
Safety policy
Every single active product goes through our final check procedure, making sure that all our products will be delivered with the highest quality and safety standards.
---
Environmental policy
Our environment is of great importance to us and we work actively with environmental issues on a daily as well as on a long-term basis.