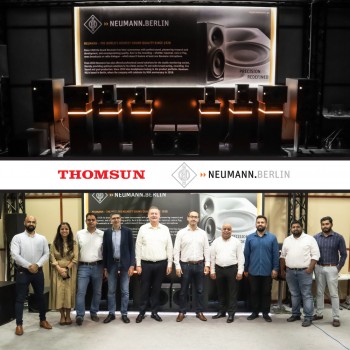 Global Audio specialist Sennheiser has appointed Thomsun Trading Est, as an exclusive distributor of their NEUMANN Studio Monitor Solution line in the UAE.
NEUMANN, the world's leading manufacturer of studio monitors, has always been recognized for technological innovation. The 90-year-old brand expanded into monitors over the past decade to top the wish list of broadcast media. To further market penetration in UAE, NEUMANN has partnered with THOMSUN TRADING – one of the leading names in the Musical and Audio products Industry in UAE.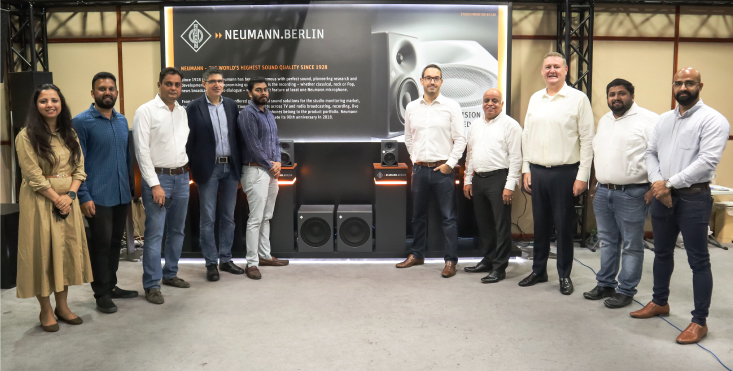 R to L – Arif PK - Area Sales Manager Sennheiser ME , Tittoo Cherian Joseph - Technical Engineer, Thomsun Trading, Ryan Burr- Head of Technical Sales & Application Engineering, Sennheiser ME, Davis Varkey- General Manager Thomsun Trading, Mig Cardamone-Sales Director Sennheiser ME, Ahmed Naufel - Sales Engineer Thomsun Trading, Fadi Costantine -Technical Sales Manager Sennheiser ME, Sarmad Riaz - Business Development Manager Sennheiser ME, Mikhail Sujan- Business Development Manager Thomsun Trading , Shraddha Mukul- Marketing Manager Sennheiser ME.
On this occasion, Mig Cardamone, Sales and Marketing Director, Sennheiser Middle East said, "We are delighted to announce the appointment of Thomsun Trading Est. as the exclusive distributor for the Neumann Studio Monitor line in the UAE. We are impressed with the strength of their team and knowledge of the studio monitor business. Thomsun has a long-lived reputation in the UAE as a distributor and MI retailer, with penetration into broadcast, music recording, and end-user (project studios), as well as system integrators that need high-quality reproduction in corporate or commercial facilities. This appointment fits well with our plans for growing our Neumann monitor business globally as well as in the UAE and the region."
"Sennheiser Middle East prides itself on its loyalty as a supplier to distributors and partners in the region. We are looking forward to a long-term partnership that is successful for both parties." He added.
Thomsun Trading Establishment, General Manager, Davis Varkey, is equally excited about the new appointment. "Neumann is a well-established brand who know their market inside-out. They understand the importance of not just selling a product, but the added value of excellent service and technical assistance at every stage of the project. And that is exactly what Thomsun Trading stands for."
There has been a growing demand for Neumann monitors in the market. This collaboration will provide a plethora of solutions for customers and businesses.
Davis Varkey, General Manager, Thomsun Trading added 'It is an honour to partner with NEUMANN with its decades of success based on an uncompromising, quality-oriented approach, in both the development and manufacture of all its products. NEUMANN guarantees the highest sound quality along with precision and credibility, a reputation earned over the decades. Our experience in the region, a wide array of showrooms, and offices strategically located across the geography and the range of products we represent gives us the confidence to take on NEUMANN. We hope our expertise and experience together with theirs will help us attain huge success."
About Sennheiser and Neumann
Shaping the future of audio and creating unique sound experiences for customers – this aim unites Sennheiser employees and partners worldwide. Founded in 1945, Sennheiser is one of the world's leading manufacturers of headphones, loudspeakers, microphones and wireless transmission systems. Since 2013, Sennheiser has been managed by Daniel Sennheiser and Dr. Andreas Sennheiser, the third generation of the family to run the company. As part of the Sennheiser Group, Georg Neumann GmbH, known as "Neumann. Berlin", is the world's leading manufacturer of studio microphones. Founded in 1928, the company has been recognized with numerous international awards for its technological innovations. Since 2010, Neumann. Berlin has expanded its expertise in electro-acoustic transducer design to also include the studio monitor market and has recently added studio monitoring headphones to its portfolio. In 2018, the Sennheiser Group generated turnover totalling €710.7 million.
www.sennheiser.com | www.neumann.com
About Thomsun Trading
Thomsun trading started distribution of the complete range of musical and audio products in 1990 and since then has grown and expanded over the years to become a leading name in the Musical Instruments, Audio Visual and Professional Audio division with a large team of qualified industry professionals with several decades of combined experience in the musical instruments, consumer AV and professional Audio Visual Industry. Our professional audiovisual division adds value to the electronic and distribution services offered by Thomsun trading. The advanced technical support, ardent marketing capabilities, and all-encompassing infrastructure make the division stand out.
Over the years, Thomsun has been offering its products and services increasingly to Musicians & aspiring Musicians, Bands & Orchestras, Educational establishments, Hospitality industry, Broadcast & Radio industry, Commercial high-rise towers and other projects / events towards their music and audio related requirement. Ours is one of the most Comprehensive and Longstanding Dealer base across the region.
As an international organization Thomsun Trading takes pride in showcasing some of the leading brands under its banner and takes into account all aspects of the history and usage of musical instruments in all cultures from all periods while proposing the same to its ever loyal customer base. We have built and operated state of the art demonstration and Training Facilities to support and promote our brands.
The distribution network spans operations in retail, dealer - reseller networks and operates in construction - commercial AV, Live Events - Rental, Productions and Broadcast industries across the GCC and MENA.